Karen Richardson – MSW, LCSW-C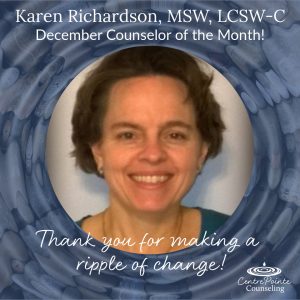 "We so appreciated Karen's willingness to jump back in with two feet at CentrePointe after a recent trip to China and really missed her while she was gone! She is so talented with a wide range of clients from the very young to complex adult cases. We are glad she is on our team!" – Kim Cook, MSW, MA, LCSW-C, CEO
Karen is a licensed clinical social worker who works with individuals and families with a variety of issues, including parenting concerns, ADHD, anxiety, depression, foster care/adoption, and past trauma. She has training in play therapy and particularly enjoys working with preschool and elementary school-aged children. Her background also includes experience with adult survivors of abuse.
Tell us a little about yourself:
I grew up in Southwestern Virginia. I have a bachelor's degree in social work from Eastern College (now Eastern University) and a master's degree in social work from Radford University. I am married and have one daughter. I have many occasional hobbies, but not one that I'm an expert at or that holds my attention all the time: I play the piano, autoharp, and hammered dulcimer; I bake frequently, knit a bit, and quilt every once in a while; I enjoy hiking; I love to read and to travel. I recently returned from spending several months in China, which was an amazing experience. I am never bored!
How do you like to spend your free time?
On one of my several hobbies, or doing activities with my family, or just walking in my neighborhood.
Where is your favorite place in the world?
The world is full of wonderful places, but at the end of the day, or the trip, I love to be at home.
What's the last book you read?
The last book I finished was Winter by Marissa Meyer. It's the fourth book of a young adult dystopian/science fiction series based on familiar fairy tales. Now I'm reading Seams of Gold: The Life of Agnes Warkentin Rice, the true account of a Mennonite family who fled religious persecution in Siberia and came to the United States. The story was told to my aunt, Vera Jones, who wrote the book.
What's your favorite movie?
I hate being asked "favorite" questions because I like so many things. Movies I can watch over and over include "The Princess Bride," "The Sound of Music," and "The African Queen." A more recent movie I really enjoyed was "The Martian."
What's your favorite meal?
It depends on the day, but today it would be a bowl of hearty beef stew and some really good fresh-baked bread.
Who inspires you?
There are so many inspiring people in the world! If I have to choose just one, I'll go with a man named Anas al-Basha. He was a Syrian university student who chose to stay in Aleppo during the civil war to help people who were under siege there, particularly children. He dressed up as a clown to entertain and comfort children, and he helped set up schools and play spaces for children in basements since it was too dangerous to go outside. He was killed in an airstrike in 2017. I find him inspiring because he is a beautiful example of the way ordinary people can respond to cruelty with love and generosity rather than violence.
Use only three words to describe yourself:
Introverted, patient, curious
What inspired you to become a counselor?
A mixture of curiosity about why people act the way they do and a desire to help others.
What's your favorite part of being a counselor?
Helping people recognize and begin to use their potential. God has given each of us the ability to do so much good in the world, but we often can't see it because of the limits placed on us by others or by ourselves. There's a quote from C.S. Lewis that says, in part, "the dullest and most uninteresting person you talk to may one day be a creature which, if you saw it now, you would be strongly tempted to worship." I love when my clients catch a glimpse of themselves or their family member as that amazing creature.
What's the hardest part about being a counselor?
All the parts that are not face-to-face interactions with clients: paperwork, phone calls, etc.
What was your proudest moment as a CPC Counselor?
Every time clients tell me they've done something they didn't know they could do.
Use only three words to describe CentrePointe Counseling:
Dedicated, encouraging, relevant
You can read more details about Karen's offices and professional background here!
Want to Support the Work of CentrePointe?
Become a monthly partner or make a one time donation!
Ready to start healing?
Contact us for more information or to make an appointment!
We send occasional updates (less than once a month!) with prayer requests, event updates, and anything else that's happening at CentrePointe.